My nickname in the game is BrutalDeluxe2105, and that's a reference to the classic 16 bits game "Speedball 2 : Brutal Deluxe" from the Bitmap Brothers. I play in Android.
Anonymous posts: these ones and these ones.
Asphalt 8
Favorite pages about A8
Garage
Most recent vehicles in A8
Achievements in A8
Champion League #4
I reached Champion League on 2020-07-22 after 26 races (from rank 1800), and I won the Lamborghini Murciélago LP 640.
Champion League #3
I reached Champion League on 2020-06-23 and won the Apollo N.
Champion League #2
I reached Champion League on 2020-05-22 and won the Icona Vulcano V12 Hybrid.
Shelby Cobra
I finally unlocked the Shelby Cobra 427 with
 1,050.
Champion League #1
Yes, I finally did it! I started at rank 1,420 and needed 75 races to reach Champion League for the first time (well, I never seriously tried before, thinking I had not enough skills, not a good enough vehicle, and not enough nerves).
When approaching rank 2,000, I ended up being opposed to a lot of Level-99 players and these guys were driving higher ranked cars, so they were very aggressive and fast. I reached rank 1,998 but I still needed to do 8 more races to finally reach rank 2,000 (I fell down to 1,980 before going up again).
Overall, it's not impossible to reach Champion League, given a good vehicle, a few dozens of boosters, time, and concentration. But the biggest problem to solve is managing the stress that these races generate. Unfortunately, the Spyker C8 Preliator is a poor reward for such a stressful gaming experience.
Cheaters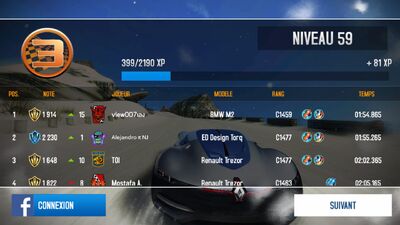 Asphalt 9
Favorite pages about A9
Most recent vehicles in A9
Community content is available under
CC-BY-SA
unless otherwise noted.