Presentation
Hi , welcome to Asphalt wiki. I'm an admin and I hope that in this site you will find all the information you need; for further information feel free to ask me.
Class D Cars
Class C Cars
Class B Cars
Class A Cars
Class S Cars
Here the list of all the cars
REDIRECT Template:Vehicle navbar a8
Favorite tracks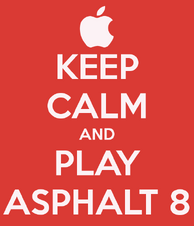 Favorite Cars Manufacturers
Here the list of all the cars manufacturers in the Asphalt series
Pages that must be edited in the next days
I recommend the users to edit this pages
Pages candidate for deletion
None
Help Asphalt Wiki
You can help this wiki in many ways, for example you can upload photos or videos, leave comments or join discussions. You can also share informations with other contributors editing the articles! Before starting I recommend you to check this page Asphalt Wiki Code of Conduct. If you want some clarifications you can contact the admins.
General Tips
The "Infobox car" template is used to present the most important characteristics of the car. You can insert an image writing in the "Image" section of the template "File:The name of the pic.png/jpg" or you can add the cost writing two curly braces follow by Credits|1,000 and other two curly braces.
Maps
Do you want to learn more about Asphalt 8 tracks? See the map below!

http://maps.wikia-services.com/api/v1/render/9520?uselang=en" 
Community content is available under
CC-BY-SA
unless otherwise noted.