Well hello here! It's time for the 2nd part I guess.
NOTE: DUE TO THE UNSUSALLY LONG PART, I SPLITTED IT INTO 4 PARTS.
IN THE LAST PART…
My Aventador SV: Geez, that's a mess here. I managed to call the Asphalt Police and I think it's Tyler Shax who made this mess.
Me: (Bursts in rage) DAMN YOU! TYLER SHAX!!!!!! I'LL HUNT YOU AND BEAT EVERY. SINGLE. LIVING. CRAP OUT OF YOU, SCUMBAG!!! D=<
Now, UP TO PART 2!
Me: (Takes a knife and unties the Mercedes) HERE YOU GO FOLKS!
My AMG GT3: Thanks =) NOW, WE HAVE TO FIND THE REMAINING CARS!
Me: NO PROBLEM. (Goes into Biome and turn on something) Luckily I always get a tracker set on my cars to know where exactly where they're. BUT that takes time. GEAR UP, PEOPLE, WE'RE GONNA DO SOME B**CH SLAPPING! >=D
(My remaining cars take the guns)
Me: (Stares at an enchanted Diamond Sword) That's gonna REAL HURT. >=D(Picks it off from an armor stand with arms)OH! SPLASH POTIONS! Just in case we need it. (grabs a couple of splash potions) DUDES, LET'S DO THIS! (Gets in the R8 LMS Ultra and busts the garage door with an epic drift)
MEANWHILE…
My 458 Italia: DON'T YOU EVER TRY AND KIDNAPP ME, GIRL! >=(
Long Haired man: I'M NOT A GIRL! MY NAME IS TYLER SHAX! (Kicks my LaFerrari) AND YOU'LL BE SENT TO THE AUCTION HOUSE AND GET SOLD!
My LaFerrari: YOU BASTARD, YOU JUST DENTED MY BEAUTIFUL DOORS! YOU'RE GONNA STRIPED! >=(
Tyler Shax: OH THEN?! (scratches my LaFerrari's bumper with a key)
My LaFerrari: OW! LET'S JUST SEE WHO WILL COME FOR YOU!
Back to my squadron:
Me: WAIT, IS THIS MY RX8? WHY IT'S HERE?! O_O
(Pulls over at my RX8)
My RX8: (strolling out from a DVD store) OH HEY GUYS! Wh-why are you taking GUNS and a blue sword with a purple tint? ?_?
Me: You're buying porn AGAIN? USING MY SECRET MONEY STASH? >=(
My RX8: NO! I DIDN'T USE YOUR MONEY STASH! O_O
My Biome: HEY GUYS CHECK THIS! I TRACKED DOWN THE CARS! 30-40 of them went to Hong Kong, where the rest are shipped to CUBA AND ARE GOING TO BE SOLD! IN AN AUCTION! O_O
Me: OH GOD WE NEED TO HURRY!
My MP4-31: HOW DO WE GET TO HONG KONG AND CUBA? FLYING WITH WINGS?
Me: Wait, Azefland knows one of his friend with all sorts of planes and stuff...
(Phones Azelfland)
IN AZEFLAND'S BASE…
(phone rings)
Azefland: Hello?
Me: It's me, the R8 tyke. I need your help!
Azelfland: What is it? Vivendi?
Me: YEAH! THOSE SCUMBAGS SENT TYLER SHAX TO STEAL MY CARS! But that's a LONG story, I'll tell you more about it when I get into your base.
ONCE AGAIN, IN AZEFLAND'S BASE…
Me: (Pulls over with my R8 LMS) TWEAKRACER! NICE TO SEE YOU!
TweakRacer: Hey buddy, glad to see you again, and about your cars…
Me: Yeah, stolen.
(Azelfland's R8 LMS came into the scene)
Azefland's R8 LMS Ultra: HEY YOU IMPOSTER!
My R8 LMS Ultra: YOU'RE THE IMPOSTER, NOOB!
Azefland's R8 LMS Ultra: YOU ARE CRAP, B**CH!
My R8 LMS Ultra: YOU WANNA FIGHT? YOU WANNA FIGHT? BRING IT ON!
Azefland's R8 LMS Ultra: C'MON! I'M NOT SCARED OF YOU!
My RX8: DRIFT FIGHT! DRIFT FIGHT IS BEST! (Resumes watching porn on his iPad)
Every car in the scene: Fight!
Me: STOP! I KNEW THIS'LL HAPPEN ONE DAY! (Takes out racing livery wrap) Come here, my R8!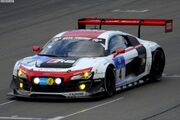 3 minutes later…
Me: DONE. That'll look good.
Azelfland: WHAT'S THIS NOISE? WHAT'S HAPPENING?
My AMG GT3: The two R8 LMS started a drift fight.
Me: Oh hello, Azefland! Glad to see you!
Azelfland: Guess you also had the R8 LMS, right?
Me: Yeah, and for distinguishing them, I added a livery to my R8! BUT ANYWAYS, BACK TO THE MAIN ISSUE-MY CARS WERE STOLEN, BUT-
My Biome: (Interrupts) They're in Cuba AND Hong Kong. I mean, some managed to be smuggled to Hong Kong, where the rest was shipped to Cuba, and we need a plane to ship us to these places.
TF2014: (Takes out a folding chair) THERE'S INTRUDER, AZELFLAND! TAKE HIM OUT!
Azelfland: CHILL BRO! He's the Audi R8 tyke, our new friend!
TF2014: (lowers folding chair) Nice to meet you, my friend! =D
Me: Me too! By the way, we all need a plane to fly us to Hong Kong AND Cuba.
Azelfland: Because Vincent sent someone to stole his cars and these are what he left. (My SV, along with all my remaining cars busts the garage door)
TF2014: VIVENDI? OH GOD NOT HIM AGAIN! I'LL HELP YOU THEN!
CLICK HERE FOR PART 2(II): http://asphalt.wikia.com/wiki/User_blog:Audi_R8_tyke/Asphalt_Stories-_Easter_Special_Part_2_(II)
Community content is available under
CC-BY-SA
unless otherwise noted.