The VLF Force 1 V10 is an American supercar built around the 8.4L V10 engine of the Dodge Viper.
Description
The VLF Force 1 is an American sports car produced by VLF Automotive. Built around the 8.4L V10 of the Dodge Viper, the Force 1 was designed by automobile designer Henrik Fisker and produces a top speed of 218 mph and 0-60 time of 3.0 seconds. VLF Automotive also partnered with American racing driver and Viper enthusiast Ben Keating during the development of the Force 1, leveraging his experience with the Viper engine. The Force 1 V10 was first unveiled at the 2016 Detroit Auto Show, with the production of the first run of 50 vehicles planned to begin in April 2016.
The Force 1 V10 utilizes the powerful 8.4L V10 used in the most recent generation of the Dodge Viper. The standard output for this engine is 640 bhp (477 kW) of power and 600 lbf⋅ft (813 N⋅m) of torque. VLF significantly increased the engine's output for the Force 1, which will generate 745 bhp (556 kW) of power and 638 lbf⋅ft (865 N⋅m) of torque (an increase of 14% and 5%, respectively). This results in a top speed of 218 mph (351 km/h) and a 0–60 mph (0–97 km/h) time of 3.0 seconds.
The engine of the Force 1 V10 is placed according to the front mid-engine, rear-wheel-drive layout (FMR), with the engine's center of mass located behind the front axle. This is meant to improve the vehicle's handling by modifying the weight distribution of the vehicle.
Asphalt 9: Legends
The VLF Force 1 V10 appears as a high-end Class A car with the following rank statistics:
Performance
The VLF Force 1 V10 is a very powerful car, featuring high top speed, quick acceleration and also pretty good nitro efficiency. However, its handling is below average. Its main competitors include the Porsche 918 Spyder and Pagani Huayra BC.
Availability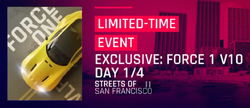 The Exclusive: VLF Force 1 V10 event was available as a TLE every 2 weeks for 4 days with Force 1 blueprints and Epic Import Parts being obtainable from the event. Using the Cadillac Cien Concept allowed for all 3 packs to be obtained.
After the Grand Prix Update, the event is now available between every Thursday and Friday. Obtaining all of the packs now requires the Cadillac Cien Concept and the Mercedes-Benz SLR McLaren to be used.