Description
The Vencer Sarthe is a Dutch supercar produced by Vencer. It is the first automobile to be produced by Vencer.
A prototype of the Sarthe was unveiled in 2013 by Prince Albert II of Monaco at the Top Marques auto show in Monaco. In September 2013, it was awarded the 'Most Sensational Supercar 2013' award. The first Vencer Sarthe was sold at a Vencer dealership in China.
The Sarthe was inspired by 1980s 24 Hours of Le Mans racecars. It has an 'automatic' rear spoiler and carbon fiber bodywork that is manufactured at the Vencer factory in the Netherlands. All the panels on the inside of the car are made with carbon fiber.
The Sarthe is powered by a supercharged 6.3 liter V8 engine that was designed by General Motors and tuned by Hennessey. It produces 622 bhp and 618 lb-ft torque. The car has a top speed of 338 km/h (210 mph), and can accelerate from 0 to 100 km/h (62 mph) in 3.6 seconds.
The Vencer Sarthe was added in the 2018 Spring Update as a mid Class C car with the following statistics:
Starting rank: 1407

This is the highest in Class C.

MAX rank: 1485 (+78)
MAX+PRO rank: 1540 (+55)
Tuning Kit bonus: +20

This is the lowest in Class C, shared with the BXR Bailey Blade GT1 in Class B, and only 2 higher than the Arash AF10 in Class S prior to the 2019 Spring Update.
This is currently the smallest of any vehicle in the game as of the 2019 Spring Update.

Stock to MAX+PRO rank difference: 133
Upgrade rank percentages: 25/25/25/25
Nitro Efficiency: 7/12/17
Performance
The Vencer Sarthe has a maximum total speed of 401.5 km/h/249.4 mph at MAX+PRO with a Tuning Kit activated. This is 2.9 km/h/1.8 mph slower than the Felino cB7. The Sarthe has good nitro efficiency, decent handling, and relatively fast acceleration.
The Vencer Sarthe is not good to use in multiplayer, as the unusually high starting rank will guarantee a match with numerous multiplayer favorites like the Audi R8 e-tron Special Edition and BMW M2 Special Edition.
The Vencer Sarthe is also not recommended for use in TLEs, as there are a lot of vehicles which can outperform it, such as the Sbarro Sparta, Maserati Alfieri, and even the Renault Trezor, Honda Civic Type R, and Volkswagen Golf Design Vision GTI. Forced-Induction V8 cards should not be used on this car except if trying to complete its Car Mastery challenges, in which case said cards should instead go to cars like the Mercedes-Benz SLK 55 AMG Special Edition and TRION NEMESIS.
Mastery
Main article: Car Mastery/Vencer Sarthe
Price
The Vencer Sarthe can be obtained by completing its Championship event and/or collecting 40 of its common Blueprints. Assembly takes 5 hours but can be skipped for up to 

 289.
As of the Sixth Anniversary Update, the car no longer requires Blueprints to be assembled, and has a full purchase price of 

 3,000.
As of the 2019 Spring Update, upgrades costs

 928,000 while Pro Kits require

 310,400, 25 of each Class C Part, 24 Early & Initial Techs, 12 Mid-Techs and 40 Forced-Induction V8 Engines.
Championship
Main article: Championship/Vencer Sarthe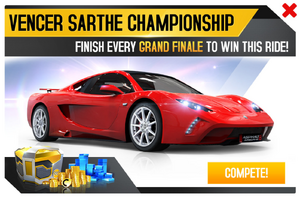 The Vencer Sarthe's Championship event was launched on April 27th, 2018. Players are given 4 days to participate the event and 7 days to complete it.
The event was revived on May 30, 2019, as part of the 2019 Spring Update's Asphalt Moments Series, but the car was only awarded after completing all Grand Finales.
The Vencer Sarthe was added in the Road Kings Update as a high-end Class C car with the following rank statistics:
Starting rank: 1,970 (35 BPs)
1* rank: 2,154
2* rank: 2,420 (15 BPs)
3* rank: 2,653 (21 BPs)
4* rank: 2,941 (28 BPs)
5* rank: 3,425 (35 BPs)
Performance
The Vencer Sarthe has a top speed of 340 km/h / 211.2 mph, making it the fastest Class C car. This comes at the cost of poor nitro efficiency, slow acceleration, and weak handling. As such, the Vencer Sarthe excels on speed oriented tracks like Himalayas while technical tracks should only be considered if the player is sufficiently skilled. At 3*-max, the Sarthe features similar performance, however due to a much improved handling and acceleration, it is better to drive and is the second best C Class car behind the Arrinera Hussarya.
Vehicles in Asphalt 8: Airborne
Community content is available under
CC-BY-SA
unless otherwise noted.