The Weber Faster One is a mid-engined hypercar concept by Swiss car manufacturer Weber Sportcars
Description
The Weber Faster One is powered by a completely redesigned, four-valve/light-alloy 5.6L (5,600 cc) twin-turbocharged V10 with electronic injection and an intercooler. The engine produces 1184 hp (883 kW) at 7,000 rpm and 922 ft·lb (1250 N·m) at 4,200 rpm. The Faster One uses an electronically-controlled muffler bypass valve to match the power and speed with the appropriate baritone notes in the exhaust and a six-speed sequential semi-automatic gearbox with flappy paddles and a 40 millisecond response time.
The Faster One is claimed to accelerate from standstill to 60 mph (97 km/h) in 2.4 seconds, 124 mph (200 km/h) in 6.6 seconds, and 186 mph (300 km/h) in 16.2 seconds. The car has a claimed top speed of at least 249 mph (400 km/h).
The Faster One has independent wheel suspension in front and rear for the intelligent all-wheel drive system, dynamic power distribution to all four wheels, electronically-controlled differentials, and a Formula 1 active traction control system. Both front and rear axles are supported by upper and lower A-arms milled from a single piece of metal and height-adjustable suspension struts with anti-sway bar, springs and selectable settings for bound and rebound.
The Faster One has ultra-wide 2,060 mm, light alloys with Pirelli high performance tires. There's a dual-circuit brake system with ABS and front and rear 12-piston aluminum fixed calipers with vented 380x34 mm ceramic brake discs. This means that slamming on the brakes brings the Faster One to a stop from 100 km/h (62 mph) in about 30 meters (98 ft).
The two-seater cockpit has an integrated safety cell with six-point seat belts for strapping into the sport seats that feature leather and carbon fiber appointments and come in a choice of color combinations. The racing-style steering wheel has more buttons than a game console controller with buttons for engine mapping, the traction control system, and the digital dashboard that is positioned above the steering wheel. There's also a sound system with integrated sat-nav and monitor for the rearview camera.
Summary
The Weber Faster One is the first Enduro Double Down-unlockable car and was added in the Enduro Update as a mid Class S car with the following statistics:
The Faster One rivals the McLaren F1 XP-5 and Aston Martin One-77.
Performance
The Weber Faster One has moderately high acceleration due to being AWD and weighing only 2756 lb (1250 kg). The Faster One also has a very efficient nitro, only slightly more efficient at Level 2 or Perfect Nitro.
The Weber Faster One has a total top speed of 300.7 mph/484.2 km/h at MAX+PRO+Tuning Kit. This is not very high considering its rank. It is 6.4 mph/10.2 km/h slower than the McLaren 720S, which has a MAX+PRO rank of 1784.
On the other hand, given its width, the Faster One's handling can only be described as above-average, although it has a sharp drifting radius, but not overly so as to result in oversteer, a problem present in cars like the Aston Martin Vulcan and W Motors Fenyr SuperSport.
Usage
The Weber Faster One is not recommended for use in Events or Multiplayer despite its acceleration. In its speed range, the McLaren Mercedes MP4-25 and Pagani Huayra BC are superior.
The Weber Faster One is more useful in Car Mastery, though, as its final Mastery Challenge, set in The Mirage, is entirely useful for grinding
, earning at least
 6,000 for every first place finish. Given that the race has an average length of 46 seconds, this makes the Weber Faster One more profitable than the McLaren 675LT, Pagani Huayra BC, and Audi R8 e-tron Special Edition but less so than the McLaren MP4-31 and 2018 McLaren X2. It is important to consider that this race is a Flawless race, which requires more caution than normal.
Main article: Car Mastery/Weber Faster One
Price
The Weber Faster One can be obtained by saving

 75,000 in its EDD event. Otherwise, the Weber Faster One can be purchased for

 13,750 when offered for a limited time.
Maxing it out requires
 2,978,250 or 

 16,550, while its Pro Kits require
 1,860,500. Initially, the car erroneously required 52 V8 Engine cards, although as of the Rio de Janeiro Update, the car now correctly requires 28 V10 Engine cards. Its EDD event was also modified in the Lunar New Year 2017 Update to reflect the engine card change, with the EDD boxes now giving out V10 Engine cards. The total cost comes out to
 4,838,750.
Availability
The Faster One was available between September 10-13, 2016 for

 13,750 and between February 22-27, 2018 at

 13,500 along with the Falcon F7. Currently, the Faster One and the Mercedes-AMG C 63 Coupe Touring Car 2014 are the only exclusive cars from the Enduro Update that are not unlockable with Blueprints.
Enduro Double Down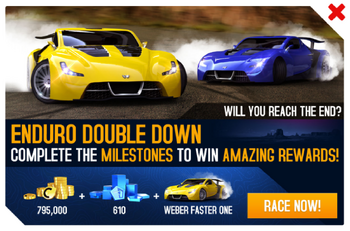 Main article: Enduro Double Down/Weber Faster One
Enduro

Double Down
Event
Boss Vehicle
Other

Enduro Vehicles

Weber Faster One

Weber Faster One
SRT 2013 Dodge Challenger SRT8 • Jaguar F-Type R • Nissan Skyline GT-R (R34) • Honda Integra Type-R • Nissan GT-R NISMO • Lamborghini Aventador LP 700-4 • W Motors Lykan HyperSport • Chrysler ME412
Aston Martin One-77

Aston Martin One-77
AC 378 GT Z • Aston Martin DB9 Coupé • Aston Martin V12 Zagato • Aston Martin V12 Vantage • Lucra L148 • Bentley EXP10 Speed 6 • Pagani Huayra • Peugeot Onyx
BXR Bailey Blade GT1

BXR Bailey Blade GT1
Alfa Romeo MiTo GTA • Mazda 6 • Ford Focus RS • Mitsubishi Eclipse • Nissan GT-R (R35) • Holden Coupe 60 • Dodge Viper SRT10 ACR-X • Mazzanti Evantra
Icona Vulcano V12 Hybrid

Icona Vulcano V12 Hybrid
Lotus Exige S Coupe • Felino cB7 • BMW M6 • Mazda Furai • Marussia B2 • Mercedes-Benz SLS AMG GT Coupé Final Edition • Mercedes-Benz Silver Lightning • Hennessey Venom GT
Falcon F7

Falcon F7
Audi S4 • Mitsubishi Lancer Evolution X • Infiniti FX50 • Ferrari 612 Scaglietti • Ferrari 458 Italia • Arrinera Hussarya • McLaren 12C Spider • Savage Rivale GTR
1967 Chevrolet Impala (Canceled)
1967 Chevrolet Impala
Camaro Z/28 • BMW M1 • Ferrari Testarossa • Maserati MC12 • Savage Rivale Roadyacht GTS • Chevrolet Corvette C3 • RUF CTR 3 • 9FF GT9 VMAX
Lamborghini Aventador LP 750-4 SV

Lamborghini Aventador LP 750-4 SV
Lamborghini Urus • Lamborghini Miura • Lamborghini Gallardo LP 560-4 2013 • Lamborghini Estoque • Lamborghini Sesto Elemento • Lamborghini Asterion • Lamborghini Huracán • Lamborghini Egoista
Sbarro Sparta

Sbarro Sparta
DS 3 Racing • Nissan Juke Nismo • Mercedes-Benz GLC Coupe • BMW M2 • Audi R8 LMS Ultra • Ferrari F50 • Savage Rivale Roadyacht GTS • Sbarro Alcador
Chevrolet Corvette Grand Sport

Chevrolet Corvette Grand Sport
1967 Chevrolet Impala • Volkswagen Golf Design Vision GTI • Maserati MC12 • Chevrolet SS • Chevrolet Corvette C7 • Chevrolet Corvette C3 • Chevrolet 2016 Camaro SS • 9FF GT9 VMAX
Porsche 918 Spyder with Weissach Package

Porsche 918 Spyder with Weissach Package
Scion FR-S • Porsche 959 • Audi RS 3 Sportback • Porsche 718 Boxster S • DS Survolt • Porsche Cayman GT4 • Dodge Viper SRT10 ACR-X • Porsche 911 GT3 RS
Mercedes-Benz SLR McLaren 722 Edition

Mercedes-Benz SLR McLaren 722 Edition
Mini Cooper S Roadster • Alfa Romeo MiTo GTA • Chevrolet Camaro GS • Ford Focus RS • Maserati GranTurismo Sport • Ferrari 458 Italia • Cadillac CTS-V Coupe Race Car • Mercedes-Benz SL 65 AMG Black Series
Yamaha FZ-10

Yamaha FZ-10
Suzuki GSX-R750 • Kawasaki Z800 • KTM 1290 Super Duke R • Yamaha YZF-R6 • Ducati Monster 1200 • Ducati SuperSport S • BMW S 1000 RR • Suzuki Hayabusa
Zenvo ST1

Zenvo ST1
Geely GC9 • Donkervoort D8 GTO • Volkswagen Golf Design Vision GTI • Jaguar F-TYPE Project 7 • 2010 Bentley Continental Supersports • Ferrari F50 • Lamborghini Aventador LP 700-4 • Jaguar XJ220S

Italics denote reward vehicles obtainable from the event.