The Winter Update, also known as the Pro Kits Update or Sector 8 Update, is the seventh update of Asphalt 8: Airborne.
Announcement
The following text was published on the Apple Store:
Gifts are coming early this year! Download the new Asphalt 8 update and unwrap all these sweet new features: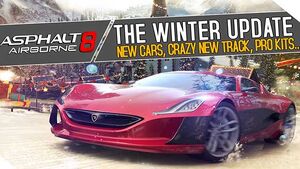 PRO KITS

Take your car's stats to the limit... then break clear through to the sky!

11 NEW CARS
NEW LOCATION

Race, compete and survive the craziest & most challenging tracks we've ever created!

HOLIDAY RUSH
NEW TOKEN SYSTEM

Nothing is beyond your reach now! Earn tokens to acquire exclusive cars, refill Fuel or buy boosters. Stock up on tokens by playing events or purchasing them in the Shop.
New Cars
Class D
Class C
Class B
Class A
Class S
The new cars will need the following engine cards:
V6 Engine

V8 Engine

Ferrari 308 GTS (x4)
Felino cB7 (x8)
Spada Codatronca TSS (x4)
Arrinera Hussayra (x12)
Lucra L148 (x12)

Electric Engine

F6 Engine

V12 Engine

W16 Engine
Game Changes
New location: Sector 8.
Christmas decorations added to Iceland, Tokyo, and the Alps. They return every Christmas season, in the Santa's Gift Update, Championship Update, Hot Wheels Update, Transylvania Update and 2019 Holiday Update.

In 2019, the Christmas decorations have returned a bit earlier, prior to the Holiday Update.

Pro Kits introduced. These allow a car to perform better than its maximum rank would allow, similar to a Tuning Kit. However, unlike Tuning Kits, Pro Kits can upgrade the stats of a car individually, and require cards in order to purchase unlocks
New currency: Tokens (). Tokens are a premium currency introduced in this update, and can be used to buy Double Credits Bonuses, Extra Tanks, Pro Kit Boxes, cars, and to refill fuel points.
AI racer ranks are now calculated better based on either the recommended rank of the event or the rank of the car you are using. For more information, see this page.
The Ferrari 599XX now always comes with a black hardtop roof.
The Peugeot Onyx's appearance has been slightly modified; it now appears oxidized.
The speed stats in the Garage are now displayed with one decimal place for better accuracy. However, internal data suggests that there are actually at least two decimal places.
When selecting a car that the player doesn't own in the garage, the car is no longer surrounded by a red dashed ring circling the car's platform (shown on right).
The hue of the Garage no longer changes to be darker when selecting/viewing cars for Events.
Trivia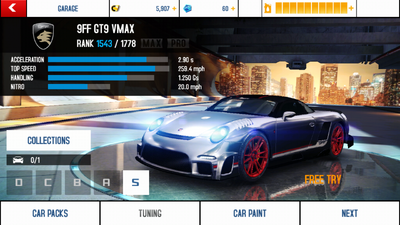 This is also the last update to feature the original Garage design.
Trailer