The Yamaha FZ-10 is a low Class B Motorcycle added in the Fall Out Boy Update, with the following rank statistics:
The Yamaha FZ-10 is one of two B class motorcycles, with the other being the Ducati Monster 1200.
Performance
There is nothing notable about the performance of the Yamaha FZ-10, considering that it is a bike, with the usual great acceleration, handling, drifting at the expense of poor top speed for its rank. It could also otherwise be described as a slightly uptuned version of the Ducati Monster 1200, another B Class bike.
Official review
This is the official review of the Yamaha FZ-10 on the Asphalt YouTube channel, made by ASL Tae Hwan Kim and published on April 5, 2018:
Time to reach end of Tokyo straight: 7.788s
Perfecr nitro duration: 9.636s
Triple nitro duration: 6.864s
Supercharged nitro duration: 6.666s
Nevada Reverse lap time: 1.06.660m
Final verdict: "This bike may not seems to be good, but its great acceleration, great handling will cover some disadvantages. With a better performance than the Ducati Monster 1200, this bike is the best B Class bike so far."
Price
The Yamaha FZ-10 can be obtained by clearing its EDD event and/or collecting 25 of its Common-rarity blueprints.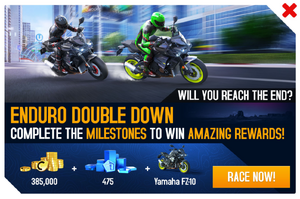 Main article: Enduro Double Down/Yamaha FZ-10

Vehicles in Asphalt 8: Airborne