The Yamaha YZF-R6 is a sports bike produced by the Yamaha Motor Company.
Description
The YZF-R6 was introduced in 1999 as the super sport version of YZF-R1 super bike, and as a companion to the more street-oriented YZF600R sport bike which continued to be sold alongside the R6. The motorcycle featured Yamaha's completely new engine design capable of producing over 108 hp (81 kW) while stationary. The R6 was the world's first 600cc production four-stroke motorcycle producing over 100 hp (75 kW) in stock form.
The YZF-R6 has been revised several times since its introduction. Starting with the 2003 model, when the R6 became fuel-injected. The 2006 model year was a significant upgrade with a new engine management system featuring the YCC-T ride by wire throttle and a multi-plate slipper clutch. The 2008 model incorporated the YCC-I variable-length intake system to optimize power at high engine rpm and an improved Deltabox frame design.
The 2017 model year R6 has improved aerodynamics with inspired styling from the current R1 as well as its 43mm inverted front fork and front brakes, new rear shock, a new aluminum fuel tank, magnesium subframe, ABS brakes, riding modes, and traction control.The new aerodynamics are claimed to reduce drag by 8% over previous models. The engine is unchanged with rear wheel power still at about 100 hp. Body is similar to Moto GP's Current 2005–Present YZR-M1.
Asphalt 8: Airborne
Summary
The Yamaha YZF-R6 is a mid Class C motorcycle added in the Fall Out Boy Update with the following rank statistics:
Starting rank: 1007
MAX rank: 1290 (+283)
MAX+PRO rank: 1460 (+170)
Tuning Kit bonus: +53
Stock to MAX+PRO rank difference: 453
Upgrade rank percentages: 25/25/25/25
Nitro Efficiency: 7/12/17
Performance
The Yamaha YZF-R6's overlap performance follows the trend of motorcycles, especially the KTM 1290 Super Duke R, another Class C motorcycle: quick acceleration, good handling and sharp drifting, but at the expense of top speed.
Usage
The Yamaha YZF-R6 does not have any outstanding use. Being an average C Class vehicle, it does not perform well in TLEs, and given its top speed, it is also far outclassed in Multiplayer by a variety of competition, notably the Audi R8 e-tron Special Edition and BMW M2 Special Edition.
Price
The Yamaha YZF-R6 was originally obtainable only from its R&D event. It can also be obtained by banking
 9,000 during the Lightning LS-218's Enduro Double Down event; players who already own the bike are awarded

 50,000 instead. From 2020 Christmas Update, it can be purchased for

 450,000.
The Yamaha YZF-R6 used to available in the garage as a limited-time offer during the following periods:
As of the Fifteenth Anniversary Update, the - has no longer

upgrades, but 10

levels instead, which cost total

 ??. Previously the upgrades costed

 760,000 while Pro Kits required

 252,800, 15 of each Class C Bike Part, 32 Common Techs, 8 Rare Techs and 20 Forced Four Stroke Engines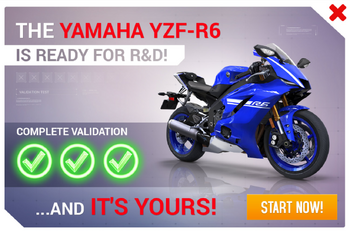 Main article: Research & Development/Yamaha YZF-R6
The Yamaha YZF-R6's R&D was launched on March 7, 2018. Once started, players are given 7 days to complete the event.

Vehicles in Asphalt 8: Airborne
Yamaha vehicles
FZ-10 • YZF-R6